You are tasked with configuring the network shown in Figure 5-14 using EIGRP such that:
1. Each interface on every router is advertised in EIGRP AS 1
2. Traffic from 172.17.0.0/16 network destined to 172.20.0.0/16 should take the RouterD->RouterA->RouterB->RouterC path. If that path is not accessible, the traffic should be routed via RouterE.
3. Ensure that EIGRP can support dis-contiguous networks.
4. RouterD sould have only a summary route for all 192.168.1.x networks not directly connected to it.
5. Remember that the DCE side of your DTE/DCE back to back cable should be connected to the interface configured with clock rate.
Figure 5-14 Network for Lab 5-2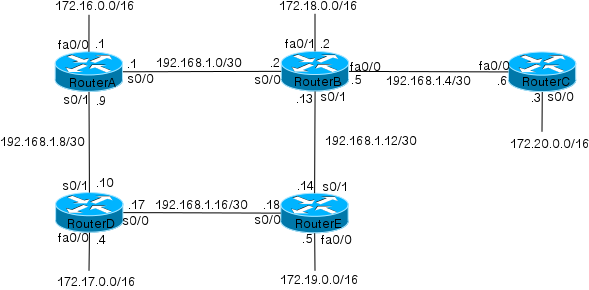 The initial configuration for all routers is shown below:
RouterA
RouterB
RouterC
RouterD
RouterE
Solution
First, each interface on each router needs to be added in RIP and version 2 has to be enabled:
Solution
The first item requires configuring EIGRP on all routers and advertising all interfaces as shown below:
The second item in the list requires that traffic is not load balanced from RouterD to RouterA and RouterE. Both paths have an equal cost, so the metrics must be modified to stop EIGRP from load balancing as shown below:
The next item in the list requires auto summarization to be disabled on all routers as shown below:
The final item requires you to configure summarization on RouterA and RouterE. Since you can only configure summarization in blocks, you will need to summarize the addresses in block of 32 to cover all 192.168.x.x/30 networks as shown below
In the routing table of RouterD, notice that it has only a single route to 172.20.0.0/16 network whose next hop is RouterA. Also notice that there is a summary route on it for all the 192.168.1.x networks.
Finally, ping the 172.20.0.3 network from RouterD to verify that routing is working correctly: